A close friend of mine is celebrating his birthday this month. I always have a hard time getting gifts for people, and probably even more so for men. I'm not very good with picking gifts. Over the years, I've bought items such as organic teas, handmade sweet treats, handmade marmalade, organic honey for this friend. But I'm running out of ideas and for a change, I thought of sending something non-food related.
I love getting gifts from Etsy. I'm saying that not because I run an Etsy store there myself, but I've found really unique, great handmade gifts over there. By the way, I also got ALL those organic edible treats from Etsy!!
I was thinking what my friend was into lately. What came into my mind was, his latest favorite word is "Namaste". So I went into Etsy and keyed in "Namaste" and my search results churned out quite a lot of gifts that were tagged with this.
And then I found this!
Isn't this pretty? It's a
coffee spoon
and it's hand stamped!
Immediately I fell in love with this. I think of how pleased my friend will be to sip his morning hot drink everyday, and the words on this spoon will help frame his mind for the day. :)
I HAD to get it for him and so I did!
You know that sense of great accomplishment when you found that PERFECT gift for someone. I'm feeling like that yesterday. :)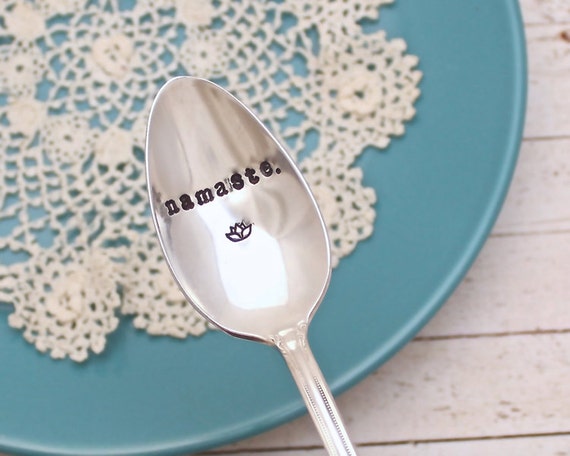 I can't wait till my friend receives his gift ^^